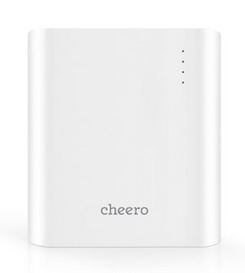 I've reviewed more mobile batteries than I can count, and I'll be honest and say that I've kind of got into a habit of how to review them. It really comes down to the amount of mAh, and the Cheero Power Plus 3 has 13400 mAh.
Yeah, that is all well and good, and it does have all the usual features like two USB ports and a micro USB input port. The two USB ports include a USB 2.4 A output port and a USB 1 A output port as well.
Of course, it has that button to press where you can see how much juice it has when the four lights. Yeah, for some reason, every mobile battery has the four lights, and I don't know who started that particular standard.
You should be able to purchase the Cheero Power Plus 3 on the Cheero site for a price of $39.99.