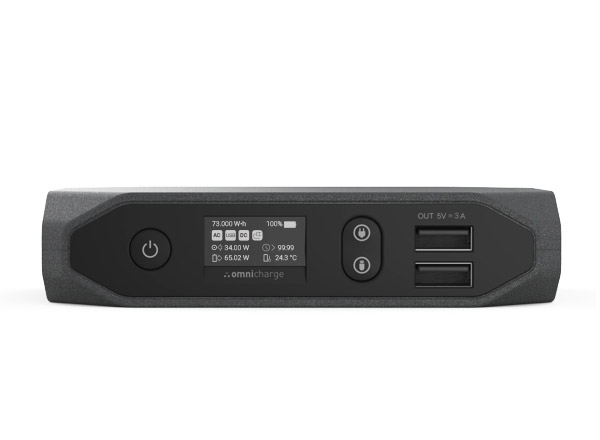 This USB-C power bank by Omnicharge is the answer to your charging needs when the most basic of power banks aren't going to cut it. Omnicharge, originally an Indiegogo project has grown and blossomed through a few changes, and it's pretty amazing.
If you are on the go, and are going to be somewhere an outlet is not, this 5 x 4.8 x 1.1 inch device that weighs slightly over a pound is a great travel companion. It will charge anything from  Macbooks, handheld gaming devices, speakers, tablets, phones, etc. It has two USB C and two USB A ports, and has a 20,100 mAh capacity.
Not only does it charge your devices, you also can actually see on the OLED display (seen next to the power button in the above picture) exactly how much of a charge you have left (percentage and time), what capacity you've been using the electricity in the Omnicharge, the temperature of the battery, and more. If you need to give your power bank more battery life, you can plug it in while it's charging other things because of it's capability for pass-through charging.
This item contains a smart DC output that can be programmed to your device's particular output needs. There is an overcharge protection, and we think that is really beneficial. No one likes damaged batteries from items being charged too much.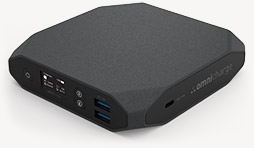 Besides being able to charge to USB C devices, you can also use the 2nd USB C port and two USB-A ports to transfer data from a smartphone, flash drive, camera, or other standard USB device.
There is a similar device by Omnicharge- the Omni 20 which has a place to plug in actual AC/DC cords. That one is officially on the market- being sold at Amazon.com for $299. This particular device that we are reviewing is still in the Indiegogo phase. Shipping already started in December of 2017, but at the time that this article is being written, you can still get in on the Indiegogo price of $179 plus shipping.
You could also get one with the protective case for $209. We were not sent one with the case, however. You should get in on the low price soon. It will regularly retail for $249 when it leaves Indiegogo. If we were in the market for a high-end Power Bank, we would suggest this one.
Disclaimer- Omnicharge sent us this model to review free of charge in exchange for an unbiased and fair review.