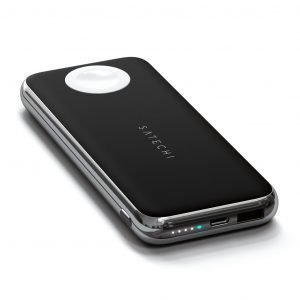 Earlier this year, before COVID-19 really took over all of our lives, we reviewed three types of Satechi products. Today, we get to review the Satechi Quatro Wireless Power Bank, and it is quite a handy mobile charger.
I don't think I feel right calling the Quatro Wireless a mobile battery, but that is the most simplest explanation of what it is. It is wireless because it can do the whole wireless charging thing, but it does it in a most unusual way.
You see that white circle in the image? That would be where you would put your Apple Watch. In the other dark area you can put your AirPods. Then you can hook up your charging cord to the USB-A and charge your iPhone.
So you can see that this 10,000 mAh wireless power bank is made for the trifecta of Apple, but what about other types of products? Well, I put my Samsung Galaxy Note20 Ultra on it, without the case, and I couldn't get any wireless charging action going on. I'm not holding it against the Quatro, as I've had similar troubles with other wireless chargers and the Note20.
So how much power can the Quatro do? Well, it can charge an iPhone 11 up to two times on a full battery charge. It can do 18 W on both input and output. I am not certain why it is called the Quatro, because doesn't that mean four? Can you actually charge four things with the two wireless pads, USB-C port, and USB-A port?
I think you might. If you want to see for yourself, head on to the Satechi site and lay $99.99 for it.