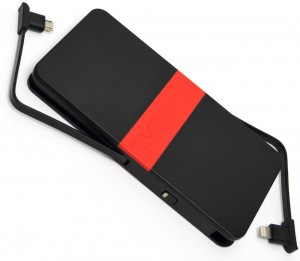 Sure, I have reviewed mobile batteries before, and I have also reviewed products from TYLT before. I am pleased to review more products with the TYLT ENERGI 5K + Battery pack.
Do I really need to say again that I have reviewed products like these before? This just shows you that it is really difficult to find something unique. Looks like CES 2014 is coming back to me again.
So let's start with what is unique about the ENERGI 5K+. It has embedded Lightning and micro-USB cables. So if you have the two most popular phones, an Apple iPhone or Samsung Galaxy, you got it. You can charge two devices with its 3 Amp circuit, and there is also a USB port.
I almost forgot the most important thing, it is a 5200 mAh battery. When it comes to products like these, this is the most important thing. Also, the size is pretty good for something like this at only 9/16 of an inch thick.
You should be able to get the ENERGI 5K+ for about $89.99 on the TYLT site.