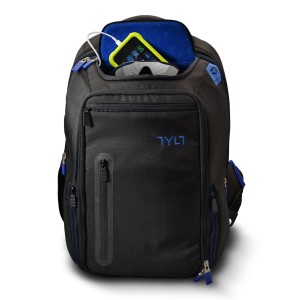 I have been wanting to review the TYLT ENERGI+ BACKPACK for quite a while, and I finally got the chance. Heck, I have been talking about TYLT products for years, and they live up to their "built to last" slogan.
The ENERGI+ BACKPACK is something that someone like me truly needs. I carry around a backpack in my laptop so I can work on the go from time to time, but without a stable base of operations, my mobile devices tend to lose battery life very quickly. Fortunately, the TYLT ENERGI+ BACKPACK has a removable 10,400 mAh rechargeable Lithium Ion battery, and this is good enough for 4 full smartphone charges or one full tablet charge.
This is perfect for when you want to take your phone with you on the go, but afraid of it running out of juice. It even has a pocket at the top devoted for a phone so it will charge while you are walking. You can fit your sunglasses in it as well, and there is a hole for the headphones in case you want to listen to tunes along the way.
I might as well talk about the pockets. There are 13 pockets total, with 5 external ones and 2 internal ones. In addition to this helpful feature, this backpack is designed for carrying on to the airplane. Just unzip it and the T.S.A. will know exactly what is inside.
If you want to get in on this action, head on over to the TYLT site and lay down $199.99 for it. I believe that is worth it if you are a world traveler with a laptop.