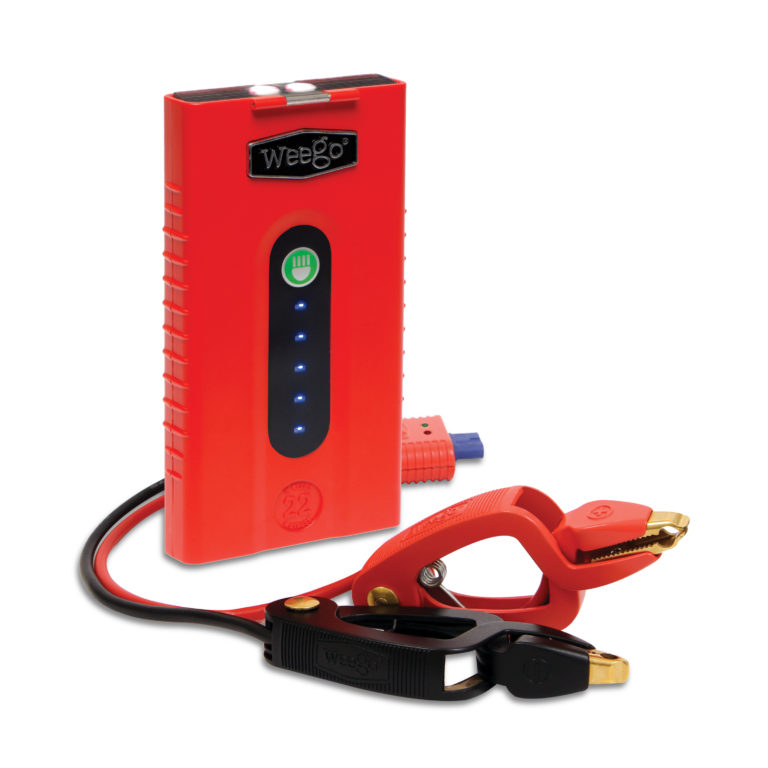 Oh, this is going to be one of those "we haven't reviewed one of these products in a while" reviews, isn't it? Yes, for Weego, we go back three years for a review of Rechargeable Battery Pack. The Weego Jumpstarter 22 is definitely an upgrade of a simple mobile battery, as it can not only charge a phone or tablet, but jump start gas engines up to 5 liters or diesel engines up to 2.5 liters.
I've reviewed products like this in the past, such as the one from MyCharge. This Jump Starter 22 is good for jump starting boats, motorcycles, and 95 percent of all cars. I've also been told that it has 1700 peak amps and 300 true cranking amps, and I am not really certain what that means.
The Jump Start 22 comes with two Smarty Clamps that are capable of plugging in to the battery, and then the tapered pincers can go into all kinds of places. This Jump Start 22 is good for hot and cold temperatures, and it is also rated IP65 for water, dust, and dirt resistance.
Now, I couldn't find any info about how many times you can charge your iPad, iPhone, or other USB device, but it takes 2.5 hours to fully recharge. It also has 1000 full charge cycles, and on charge can last over a year without use.
Oh, I should also mention that the Jump Starter 22 comes with a flashlight feature. That is going to come in handy should you need to jumpstart something, that is for sure.
All of this, and it comes in a strange lunchbox, available on the Weego website for $99.99.