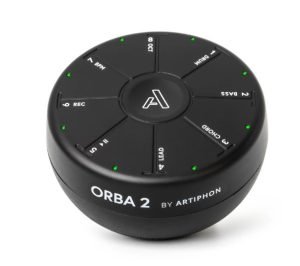 I have to admit that I really loved to review the Orba from Artiphon, but I kind of wish that I had held on to it so I could compare it to the Orba 2.
If you are not familiar with the Orba 2, it is a follow-up to Artiphon's very cool synth, looper, and controller. Apparently, the Orba 2 has some great upgrades.
If you use the Orba app, you can get some pretty great creations. Now, not be a musician myself, as I said in my video. In fact, you can see in the video that I'm kind of trying to figure out how to use all the cool stuff on the app.
I never was able to get this going, but like I said in the video (or at least subtitled) I wasn't certain what I would get. I was able to press a few buttons and get a tune going on, and I think I even got some tune going on it inadvertently. Sadly, not being a musician, I couldn't really repeat my discovery and honestly have no idea what notes I am hitting on the buttons.
If you want to get in on the Orba 2, go ahead and head on over to the Antiphon site and lay down $149.99 for it.