It has been a while since I reviewed a good Accell product, and I really liked the Powramid. They make a lot of excellent accessories that are good for the office, and I was pleased to review two of them.
Accell 6-Feet USB-C to DisplayPort Cable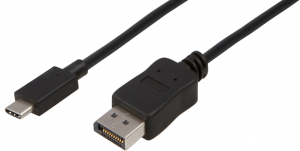 This first device takes advantage of two ports that have become very popular: the USB-C and DisplayPort. Since there are many displays that have that DisplayPort port, and many devices with USB C (MacBook Retina, MacBook Pro 2016, and Chromebook Pixel, as well as the HTC 10 that I use and have reviewed), it just makes sense to combine the two.
In this case, this is one nice 6 foot cable made to support 4K at 60Hz resolution, at up to 5.4Gbps per lane, which is good for games, video, or just about anything that you want on the screen. Best of all, it works from all operating systems like Mac, Windows, or Google, provided it will support DisplayPort Alternate (ALT) mode.
All that, and it is compliant to VESA DP Alt mode on USB-C ver. 1.0. If this is something that you want or need (or both), head on over to the Accell site and lay down $31.99 for it.
UltraAV Mini Dual Display MST Hub
Now, if you are looking to expand your device into two monitors, you can use the UltraAV Mini DisplayPort 1.2 to 2 DisplayPort Multi-Display MST Hub. Yes, that is a long name, and this particular device is ready-to-use for the Microsoft Surface Pro 4, Surface Pro 3, or Surface Pro 2, but will also work for a DisplayPort Windows PC.
The setup of this particular device is simple allowing you to plug it in to Microsoft's favorite all-in-one PC/laptop, and there is a scan button that refreshes . It uses a multi-stream transport (MST) protocol, which supports up to 2 displays independently at 2560 x 1600 at 60Hz or 3840 x 2160 at 30 Hz with DP 1.2.
For those that don't have two DisplayPort Monitors, the MST Hub has Dual Mode or DisplayPort ++. This is where it directly outputs with single-link HDMI, VGA, and DVI signals using either an active or passive adapter.
For those that want to get in on this, head on over to the Accell site and lay down a good $79.99 for it.