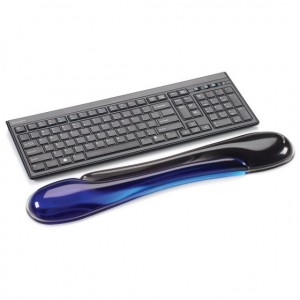 I don't really get a chance to review many wrist rests, but I figured that if I was going to review one, it would be from Kensington with the Duo Gel Keyboard Wrist Rest. Some of you might recall my review of the Kensington SmartFit Conform Back Rest, and they make a lot of great office as well as ergonomic products.
One thing that I got to love about the Duo Gel Keyboard is how it feels. You press your fingers into it, and it feels like you are putting your hands on Jello, but without the squishy sticky feeling. This will definitely help you if you are having problems with your wrist with carpel tunnel or whatever.
By the way, the soft finish is easy to clean when it gets dirty. That is very handy for this "gel pillow", and I don't know how else to describe it.
What is interesting is how the shape has this "ventilation channel" which can "keep your hands cool and dry". Personally, I like the look of this channel, as it makes it look like a yin/yang symbol.
If this sounds like something you want to put your hands on, head on over to the Kensington site and pay $17.99. It is available in Blue/Black or Red/Black.