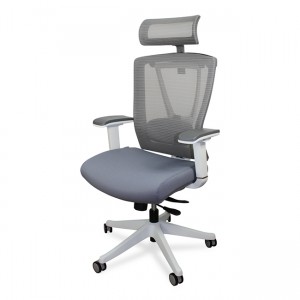 I realize that normally when I review a product from the same company, I have this thing about spacing out the reviews or at least calling it "Part 1" and "Part 2" and so forth. Today, I just said "the heck with it" and here's a review of another great Autonomous AI product that I had a chance to try out with the ErgoChair.
As you might have guessed, the ErgoChair makes an excellent companion for the SmartDesk 2, only it can't stand you up. While I am talking about the SmartDesk 2, I will say that it took me hours to assemble that desk, but I was able to assemble the ErgoChair in less that time. I would like to say "in minutes", but it took less than an hour, I'm sure.
The moment that I sat down on the ErgoChair after it was assembled, I was instantly comforted. It is a chair that I would feel great taking a nap in, and feel that I could do a lot of work with. Seriously, I said "oh yeah", and I really like the mesh stuff the seat is made of.
The ErgoChair has so many points of adjustment. The armrests alone can go up, down, left, right, front, and back. There is this one lever in back that locks it in place, or allows the user to lean back pretty far. The headrest can lean back as well as extend upwards as well.
The main website says that "customizable tilt tension to perfectly balance your weight, seat position can be locked or unlocked for flexibility or maximum support", and it looks like there is some technology in place that makes the comfort possible.
Therefore, I'm going to recommend the ErgoChair for anyone in office. That is, for those that work an office and want something with a swivel and wheels, not those that are in political office. You should be able to purchase the ErgoChair on the Autonomous AI website for a price range of about $249-$299.