Here's another review from TheGeekChurch of a wireless router. These devices are always important in our technology-driven lives. This one is by Phicomm, a Chinese based company that is devoted to creating smart home solutions.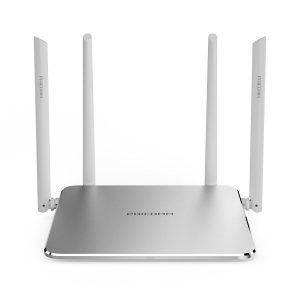 The Phicomm KE 2P AC1300 wireless router is dual band- which means it can work in two different bands at the same time. The KE 2P is an upgrade from their former KE 2. It's up 100 Mbps from 300 to 400, allowing a better penetration of walls. And the 5GHz can reach 867 Mbps.
Now, you can have the fastest, best router, but the data speed will always depend on your provider and environmental factors. So don't complain to us if this router doesn't give you as fast a connection as expected.
The metal exteriors can be purchased in finishes of Moonlight Silver or Champagne Gold. It has a really nice look, despite looking like an alien ship, but the four antennae work together well to enhance the signal.
Another great feature is the PHICOMM Wi-Fi app you can download. This app allows you to see what all is using your signal, so you can boot off and block strangers trying to squat on your wi-fi signal. Probably the best for parents is the ability to set time limits on different devices using your wi-fi, so you can limit your kids from spending hours on-line. You can also set up a guest network to protect your password.
The best news of this wi-fi router has to be the price. Routers can be spendy, but this one only costs $59.99 on Amazon.com.