If you are like me, you spend a good portion of your day in front of a computer. The product I'm about to review could save you from hand cramps and carpal tunnel. The German-based company, Cherry, has sent us their newest wireless, ergonomic mouse to review. We'll tell you a little about the MW 4500 mouse.
This special ergonomic mouse is a great one to use, as it holds your hand at a 45-degree angle. This position will prevent fatigue and cramping. Maneuvering a mouse sideways takes a little practice, but it's lovely after a while. Of course, this mouse is only good for right-handed people. Sorry, lefties.
MW 4500 Box Contents
The wireless mouse
instruction manual(in several languages-English not first)
Nano USB receiver(found in battery compartment)
2 AAA batteries
How to use the MW 4500
The mouse is very simple to use. Put the included AAA batteries in. Plug the nano USB dongle into your laptop/computer. Make sure the switch on the mouse is in the "on" position. Wait for your computer to recognize the device, and then get scrolling and clicking. The left and right- click buttons on the left side of the mouse work just like any other mouse- just in a different angle. There's also a scroll button, and a button that will change the dpi- 600/900/1200. This does mean the mouse isn't really made for gaming, though. There are other ergonomic mice for the serious gamer.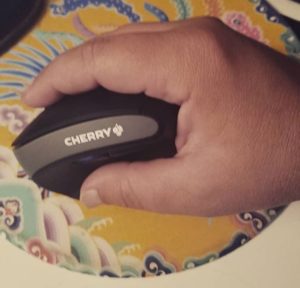 Purchasing the MW 4500 Mouse
Usually, the products we review have a place on the company's website to purchase the items, but I didn't see any on Cherry's site. The price for this mouse on other sites like OfficeSupply and PCNation seems to run around $25 USD. I think that's a great price for a mouse like this.
Disclaimer- Cherry sent us this product to review for free in exchange for a fair and unbiased analysis. No other compensation was given to influence our review.