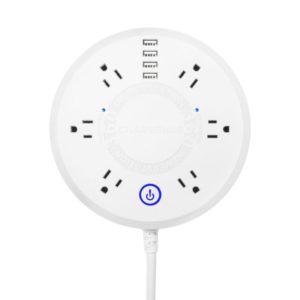 To be fair, Limitless Innovations is a company with limits, but the one limit it doesn't have is its ability to give consumers the power. I am talking about the power we all need, to power our tech stuff. The company that is probably most famous for the ChargeHub has created the Powerstation 360.
It seems that one can put "360" on a product and expect good things from it. I am talking to you, Xbox! It is definitely true for the Powerstation 360, as it can charge 10 devices. This is provided you have 6 things you can plug in with a cord, and 4 things you can plug in with a USB. Yeah, you can do a lot of mixing and matching here.
Oh I almost forgot! It is a surge protector, with up to 4000 Joules of protection. I kind of wish I had some practical knowledge and application of those numbers. It doesn't look like a typical surge protector as it comes in a circle form rather than a line. What is cool is that it can be mounted on the wall with some provided screws.
If this is something that you want, you can get it on the Limitless Innovations site and pay $59.99 for it.