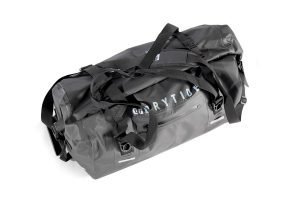 I think that we are reviewing a lot of terrific products that keep tech products out of water, but I have to admit that I haven't seen one that does it to a great degree as the DryTide Waterproof Duffel Bag 50L.
What you are seeing here is a bag that you should be able to take anywhere where there is water. Say you are going on a waterskiing trip and you have a wetsuit and a lot of clothes that just got wet and full of sogginess. Traditionally, you would just ball the whole wet wearables into a towel or something. Then it gets all full of mildew and stuff.
I want to let you know that even though this looks like a duffel bag with some kind of zipper top, but it isn't really. It does have a top that can be rolled up and sealed pretty tight, and the material is made so any wetness doesn't seep through. Basically, you have a big open-mouth top where you can toss stuff in, and shove in the back of a pickup.
There are some other great features like some pockets to keep stuff safe, like a phone or keys. It can be purchase for about 69,95 € on the DryTide site, which translates to about a little over eighty USD.