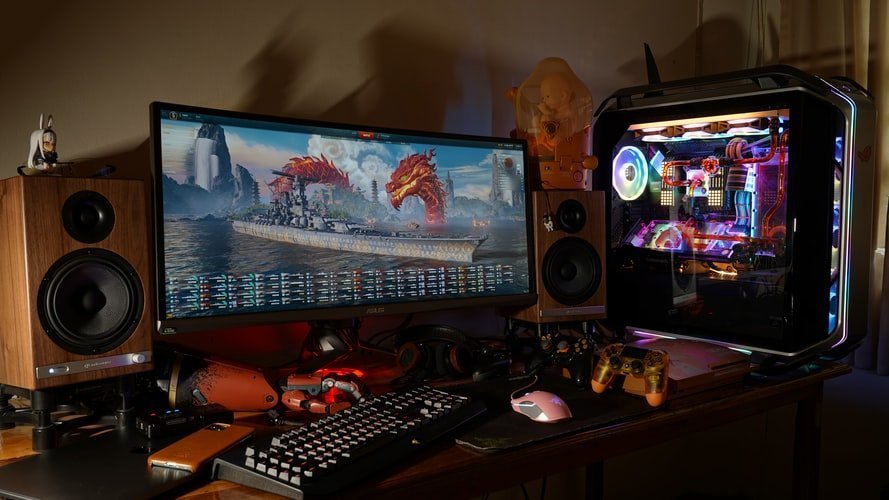 Nowadays, PC gaming has not only become an entertainment hub but also an avenue for people to socialize in.
But to get into PC gaming, you need a decent setup, and the really good ones are very expensive. For example, many high-end builds go up to $2,000.
However, know that you don't need a high-end PC to play all the games you want (yes, even the graphic-intensive ones or those that need high frame rates). Today, we will teach you how to create the perfect mid-range PC gaming setup with a good computer monitor.
A Decent CPU
While CPUs with more cores are more efficient, a mid-range PC only needs 4 at the very least. This is because your CPU determines how many programs your PC can handle at a time, and you won't simultaneously open that many at a time. For instance, you might have your game, your browser, and Discord open. One core usually means one task.
Both Intel and AMD have superb, low-cost processors you can check out, like the Intel Core i5 11600K and the AMD Ryzen 5 3600XT.
Then again, it won't really matter even if you purchase a budget processor like the Intel Core i3-9100F, as long as they have the right number of cores. You should invest more in the next item.
A Good GPU
The quality of your GPU doesn't just determine whether your game looks nice or not, but how fluid the movement of your characters is during gameplay. This is why when building a gaming PC, one of the most important factors to consider is its graphics. To this end, it's best to defer to NVIDIA's critically acclaimed GTX and RTX GPUs, which are fully optimized for gaming. For a mid-range PC, a GTX 1060 is more than enough for most games. However, if you're going to play graphics-intensive ones like The Witcher 3, then look into an RTX 2060.
You don't have to buy the best GPU from the get-go if your budget doesn't permit it. All GPUs (as long as they belong to the same brand) are similarly shaped, making the component easily upgradable.
An G-Sync/FreeSync Compatible Monitor
Usually, gaming monitors have either a fast refresh rate or a high resolution. However, choosing a gaming monitor is not as simple as fulfilling these two specs requirements. It's always best if they're G-Sync/FreeSync compatible. Both of these features minimize display stutter and input lag.
For example, the Samsung Odyssey monitor line, which has both, is a good place to start your search.
A Mechanical Keyboard and Responsive Mouse
To complete the experience, you need the right kind of keyboard and mouse as well. For gaming, a mechanical keyboard is preferred to a membrane keyboard, since it's more tactile, more durable, and faster. Plus, you can actually feel and hear the keys as they're pressed, so you won't have to fear any missed input.
For a mouse, you don't need one that's branded as a "gaming" one, so long as their response time is 4ms or less. For example, Logitech G203 Lightsync can be bought for as little as $39.99.
Aside from saving money, building your own mid-range gaming PC is a very satisfying experience, especially since you'll have complete autonomy over what it's going to look like. Just choose your components carefully and research your game library's recommended specs.