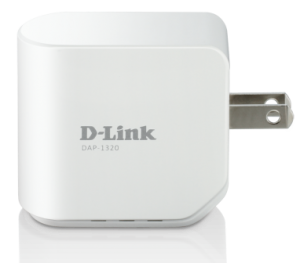 I have seen a lot of wireless range extenders, and I will have to say this one from D-Link is probably the most compact and simple. Products like the zBoost Metro can increase the range, as well as this Wireless N300 Range Finder from D-Link, makers of the AC1750 Dual Band Gigabit Cloud Router.
The Wireless N300 Range Extender, or DAP-1320, is a simple small device that fits in the palm of your hand. All you need to do is plug it in, and then hit the WPS button your your router. Hold down the button on the DAP-1320, and you've got some extended range on your Wi-Fi network, including the dead zones.
How much extension? About 300 Mbps wireless performance, I am told. Now, I tried this around my own house, and I noticed some improvement, but I think I would have to get into some precise measurements to be accurate. Thanks to the aforementioned AC1750 Dual Band Router, I have very few dead zones in my house.
You should be able to purchase the Wireless Range Extender on the D-Link site for about $49.99 as a special offer.