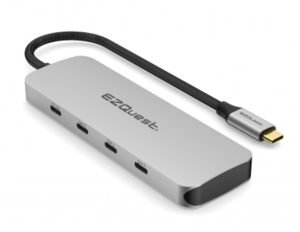 It's time once again to review another great EZQuest product, and I believe they were the first product that I reviewed on Tik Tok. By the way, follow my Tik Tok channel, won't you? I've noticed that it has been going down as newer videos get way less hits than they used to. Today, we're going to be talking about the EZQuest USB-C Gen 2 Hub Adapter 7-Ports.
Now, normally when I review these hub, it is usually a matter of what types of ports these have. This particular one has a little less variety as it has three 5Gbs USB 3.0 ports and three 10Gbs USB-C Gen 2 ports. In case you are thinking that three and three does not add up to seven, you would be absolutely right.
So, this has a power input of one USB-C 100W Power Delivery port version 3.0 with pass-thru charging up to 80 W output to charge laptops and FRS tech or 5Gbs data. Just to let you know, it will not work if you have a USB-C Monitor (and I've never reviewed one of those).
If this is something that you want, then head on over to the EZQuest website and pay $69.99 for it.