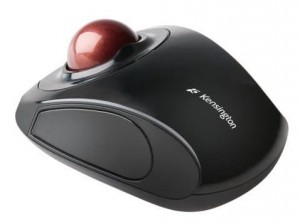 I had a great time reviewing another fine Kensington product with the Orbit Wireless Mobile Trackball, and I have to admit, it is a pretty fine product.
Personally, I am more of a mouse person myself, as I need to move something around the desk. The Orbit takes your mouse and use it like a trackball, kind of like the controller on Centipede, the arcade game from 1981. Yeah, that might be a reference a lot of people don't get.
The left and right click buttons are on the sides, so speaking of things that people might not get, it might take me a while to get used to this. Of course, that's me, the mouse guy. I can't even do a trackpad very well.
Set up for the Kensington Orbit Wireless Mobile Trackball is pretty easy as plugging in the 2.4 GHz wireless dongle and the drivers happen. Then the mouse needs 2 AA batteries.
If this is something that you want, feel free to head over to the Kensington site and lay down $59.99 for it.