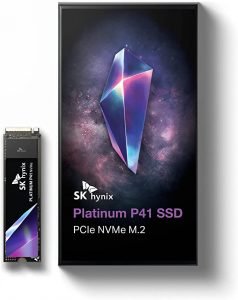 So, I believe this would be the first time that I have reviewed an SSD on this site. I guess that we love to review accessories and all kinds of gadgetry and tech, and I have to say that it is difficult to do a review of this.
Honestly, reviewing this is like reviewing a pair of earbuds. Most of the time, it is just about commenting on the audio, which is difficult, when I write or do video. So, this is a SK hynix Platinum P41 2TB PCIe NVMe Gen4 M.2 2280 Internal SSD.
I suppose that I can talk about some of the stats, like how it can read speeds of up to 7,000 MB/s and write with speeds of 6,500 MB/s. It also has proprietary SK hynix HYPERWRITE cache technology with next-tier power efficiency.
I should also talk about how easy it is to install. I probably should have filmed that, honestly.
Okay, I went to the SK hynix website, and I could not find it there. However, I was able to find it on Amazon for about $259.99, at least for the 2 TB version.