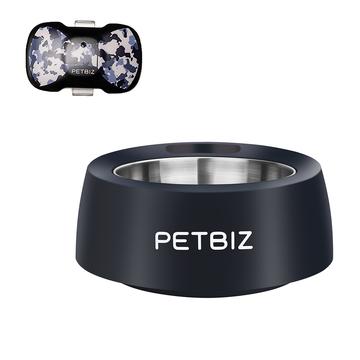 So, if you have a dog or a cat, then you might be interested in looking into the products from Petbiz! This would be the first time that I am reviewing their products, but since I have only one dog, it could be the last time.
We are actually reviewing two products from Petbiz today, but they are actually in one product known as the Healthkit Combo. The first is the Petbiz G20 Pro GPS Tracker, and the other is the Petbiz Smart Bowl.
Petbiz G20 Pro GPS Tracker Review
For those that are worried about losing their dog or cat, then the G20 Pro GPS Tracker is for you. This is one of those gizmos that comes with a lot of cool things built in, and it is all thanks to an application that it comes with.
So if you want to just GPS location track your dog/cat so you know where he/she is, you can do that. Also, have you ever used an e-fence? Well, you can with this particular product, so you will know if your precious pet has gone astray from your yard or other area that you have designated.
Oh, and if you are looking to see how much time your pet spends on sleeping or even being active, that is also possible. All you need to do is enter your pet's breed, age, weight, and more to monitor.
All that, and it works for about a month on a single charge. It is also splash-proof, and it has swappable covers. Now you will have to get a monthly subscription to make this work, but it is only $6.99 a month. (That fee goes way down depending on how long you subscribe.)
You can get the G20 Pro GPS Tracker on the Petbiz site for about $129.00.
Petbiz Smart Bowl Review
Now, this Petbiz Smart Bowl works with the G20 Pro GPS Tracker, and it has its own set of useful features. For example, it has a built-in scale, and it is cool to see the numbers shift when the bowl shifts.
The aforementioned app works with it so you can plan your dog or cat's meals based on age, breed, weight, and more. So, if you accidentally under or overfeed your dog or cat, you will be getting an indicator light warning.
Not only that, you can track calories based on how much your pet will burn during the day. Another good feature is how the metallic bowl is easily removable so when you want to clean it up.
All in all, it is a super good product for about $59.00 on the Petbiz site. For those who want to get the Healthkit Combo, it is about $178.00 from the Petbiz site.