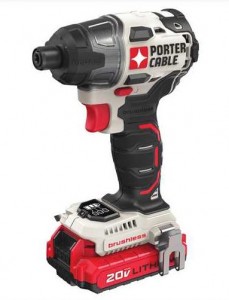 I have to admit that this review is a result of a mistake, and it was mine. About a week ago, Porter Cable, which is owned by Stanley/Black and Decker, sent me two power tools. What I had assumed is that they were the same power tool, with the 20V MAX 1/2 Inch Brushless Lithium Cordless Drill Driver (PCCK607LB). This review is about the Porter Cable 20V Max Brushless Lithium Cordless Impact Driver Kit PCCK647LB.
Just to let you know, this is an Impact Driver, not a Drill Driver. I will readily admit that I have no idea what the difference is. Yeah, I said in my last review that I am not a tool guy, but I am learning.
For example, the brushless motor is good for 50 percent more runtime, and it comes with two great 20 V batteries. It is also good for 1,400 in-lbs of torque with 2,700 MAX RPM.
Yes, you shouldn't have any trouble doing work with this guy. Like the last Porter Cable product, I will highly recommend it. You should be able to get it on Amazon for about $148.34.