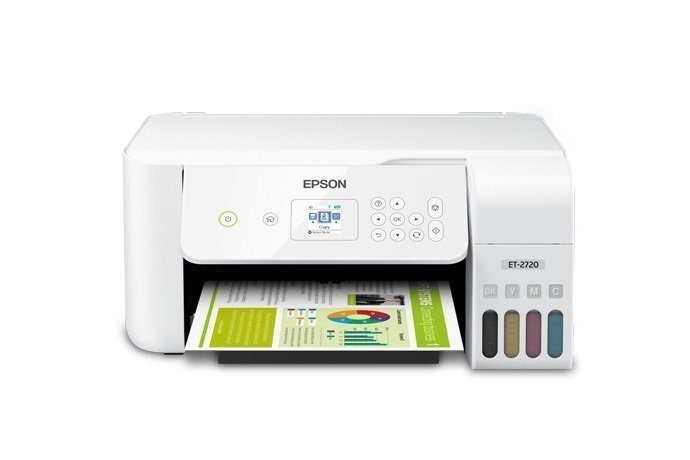 It has been a while since I have reviewed a printer. I feel like we live in an era where having a printer isn't really required, as we are moving toward a more paperless society. You can go to any retail store and see them not even on sale for what you would have paid for an ink cartridge ten years ago. Needless to say, I have admit that the Epson EcoTank ET-2760 is a printer for a post-printer age, and a good live-in companion in any household.
The first thing that I want to say about the Epson EcoTank ET-2720 is how easy it was to set up. Remember how you always had to plug in your printers to your computer somehow? There isn't even a port for that. All I really had to do was plug it in, and then set it up with my Wi-Fi network. That actually was the only pain as that password had to be entered manually, which was using arrow keys and all. It took time, but I was amazed that my laptop and my smartphone, both connected to my Wi-Fi network were able to print immediately.
Another thing that makes this Epson EcoTank ET-2760 really work is the cartridge-free capacity. It comes with these ink bottles that claim they can save you more than 90 percent! I don't know how true that is, but these bottles are easy to use. You just open up the print, and pour in the black, yellow, red, and blue. These bottles have a major airtight seal so it is easy to fill, and they cost about 40.99 per set. I've done a few print jobs, and discovered it is about 1 cent per page.
Not only does the Epson EcoTank ET-2760 work as a printer with auto 2-sided printing, but it has a scanner for copying. I like having the slot for a memory card, so you can scan on the go and take what you scan with you. It also has the ability for voice-activated printing as well.
I did have one complaint. I said earlier that I was able to hook up my smartphone and laptop to the Epson EcoTank ET-2760 for quick print jobs, but I found that other people in my household were not able to get on so easily. I'm sure that it can be worked out, but it is weird.
I would recommend the Epson EcoTank ET-2760 for the good price of $199 on the Epson site.