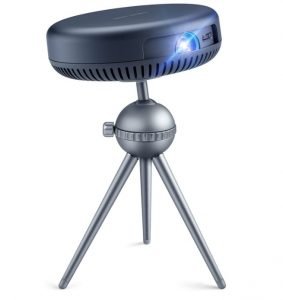 I have reviewed mini projectors in the past, and I always appreciate what they are trying to do. That is, a way of projecting some kind of presentation on a big blank wall with something very small. I mentioned in my video how I am planning on being a James Bond-type of supervillain, and supervillains have to have a big plan and a way to present it.
Fortunately, I have the Viewcomm iSpace2, which allows me to really get a big image on a wall, as you can see in the video. This does so in a very small package that is not quite pocket-sized. I say this because I believe the back of the box shows the big disc shaped item fitting in someone's back pocket. All I could think of was it must be someone with a very big butt. I mean, seriously, you don't need this to fit in your back pocket, then you're going to have to fit the tripod in your other pocket.
Yes, there is a tripod, and it affixes magnetically to the bottom of the unit itself. It's got a great design, and it is something that you have to admire, honestly.
So, once you plug it in, it will work right away. It comes with this awesome remote control that will lead you to this cool menu screen. From there, you can use the Android TV 9.0 operating system to sync with your Wi-Fi network.
For me, I decided to just hook up a Nintendo Switch via HDMI, and I was playing the world's largest Mario Party Superstars game. I had to do a little focusing with the dial near the lens, but I had the right resolution very quickly.
The sound was also pretty good as it has a 360 degree Bluetooth speaker. They are 3W speakers, but they are pretty good for something of its small size, but you have the option of hooking up a bigger speaker if you want to.
The weirdest thing about the ViewComm iSpace 2 was that I could not find a website specifically devoted to it after I Googled it. It did find it on Amazon for a price of $249.99, which is a decent deal for something in such a small package.
Oh, here's my Master Plan, if anyone wants to use it.