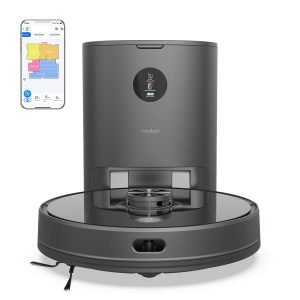 Oh yes, we have reviewed a lot of great robotic vacuums on this show, and honestly, most homes do have one of these as that member of the family that cleans up after them and gets no credit for it. Kind of like…yeah, this warn out bit isn't really working, so let's just talk about the Neabot NoMo N2 Robot Vacuum Cleaner.
I have already explained what robot vacuums do in previous reviews, and you can read about some of the best ones in our special article. Not only does the Neabot NoMo N2 suck up dirt at the touch of a button, it can do something different.
What makes the Neabot NoMo N2 so different is that after the whole cleaning is done, it will go back to its charging base and then empty out its contents in a dust collection station. Then you just toss the oversized dust bag away, and it is supposedly good for 30 days.
I say "supposedly" because I haven't really tried it out for that long, but there is a video below where I show it working. The Neabot NoMo N2 has some terrific obstacle sensors, and it can even detect cliffs. I have no cliffs in my house, but you can see it trying to get around some serious Mountain Dew Case with recyclables.
What is interesting is that there is a 250ml electric water tank that allows the NoMo N2 to become a mop, and it can even monitor the control the water level according to the dryness and wetness of the floor.
I had some issues with setting up the Neabot NoMo N2, but I was eventually able to get it to sync up and then let it work. You can see that my dog was a little frightened by it, but it is pretty quiet.
If you want this, head on over to the Neabot site and pay $399.99 for it.