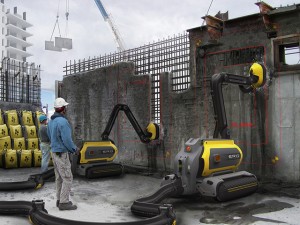 When I first saw this ERO Concrete Recycling robot, I thought this was the wrecking robot from the movie I, Robot, the one who almost kills Will Smith in the not-so-perfect adaptation of the Isaac Asimov short story collection.
This is not the case, as what Omer Haciomeroglu was trying to do is create a robot that could recycle concrete. Yes, this thing is designed to break down concrete into raw materials and then packaging them for reuse. So you have concrete you can use again, not to mention the rebar.
Sadly, this is is just a concept, at least for now. Considering how construction isn't exactly earth-friendly, it is good to see that buildings can be reused.