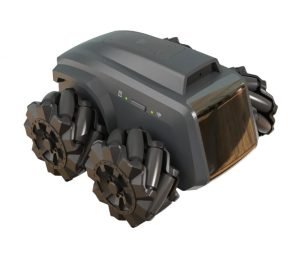 The Moorebot Scout was a product that I saw at CES 2023, and I knew immediately that I wanted to review it. I know that it looks like it is a toy, like a Stomper 4 x 4, but it is a home monitor. It's more like an AI-Powered Mobile Robot, I mean, it is a robot, which means it has a specific program for business.
That business is so you can monitor your personal space on a pre-programmed path so you can see what is going on. In case you are worried about its battery life, it will automatically dock with its charger for a gas station stop.
You can take control of the Scout with your smart device, and you can program it to do things with the blocky program that it comes with. It's got a camera in front, so it can record whatever path you take it out. That camera has night vision, by the way.
Oh. My. Gosh. I haven't even got to the best part yet. You might notice how the tires got some serious treads on them. The reason why is because this Stomper wannabe can move sideways. Seriously. Sideways. I checked it out, and it works really great.
Well, if you want to get in on this, feel free to head over to the Moorebot site and lay down $179.00 for it. That's a markdown from $199.00, and I don't know how long it will stay that way.