I found an article from five years ago where TechnoMark talked about how he would like to get his hands on a scanner that was a computer mouse. Well, thanks to IRIScan, he's getting his wish with this IRIScan Mouse Wifi, as well as another type of scanner they sent called the IRIScan Book.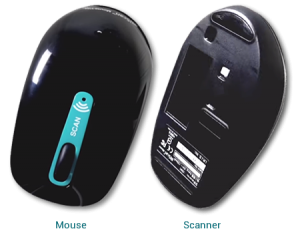 The IRIScan Mouse Wifi works with both Windows and Mac, and is great for scanning documents on the go. It's really simple to scan- with just a click of the button, and swiping the mouse over things you want to scan. After that, you can convert your scan into whatever output format you need- i.e. JPG, PNG, PDF, etc.
You have the ability to scan text in foreign language, and Google Translate connector will read them out loud to you as long as you have internet connection.
Included in the package is a special mouse pad with a clear cover you can lift to insert small cards in to hold them in place in order to scan. Once a business card is scanned in, CardIris, the provided business card recognition software, will convert the scan to digital contact information you can use in g-mail, Outlook, and the like. It's also really easy to share pictures to Dropbox, Facebook, etc.
This great little device retails for $129.
Another great scanner by IRIScan is the Book 5. This device comes with an SD card, a USB cable, and even a pouch to put it in. This 11 x 1 1/2 inch wand fits easily into your hand, and allows for quick scanning- faster than running things through a normal scanner. You can scan a page of a book or magazine in as fast as 1 second for black and white, low quality resolution. It takes about 4 seconds for high quality color resolution.
This video shows more about this product.
For $20 more, you can buy the wi-fi edition of the product, which eliminates the need for the USB cord connection.
The Book 5 is valued at $129 as well. 
So which should you get? Well, if you want to scan a lot of pages of books, the Book 5 is probably the best. If you have a lot of little things like business cards and want to have your scanner handy in your mouse, then that would be the way to go. Maybe you want one of each!
IRIS does not sponsor the GeekChurch, but they did send us these products to review for free. As always, these reviews are done without bias.