Our fourteen year old son was the first in the family to really get into smart home products. He saved up his Christmas money to buy a Google Home Mini. Suddenly his room became the smartest room in our home. He has the ability to turn his lights off from his bunk bed, and set an alarm to wake him up in the morning. I've been a bit jealous of the convenience he enjoys. I was really happy to get this new Sonoff S20 Smart Socket to review.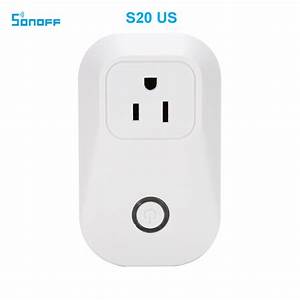 What's in the Sonoff S20 Box?
The smart WiFi socket, which has an input voltage of 90-250V AC 50/60Hz. It has an output voltage of the same. The max load of this socket is 220V. You'll need a 2.4GHz WiFi connection. A slip for a 2 year warranty accompanies it, as well as the quick start guide.
Our Experience with the Sonoff S20
Admittedly, it took me a while to get started with this product. First, you need to download the eWeLink app. The Sonoff company is a Chinese- based country, and the translation for instructions weren't totally straight-forward.  I will say that the company was willing to give me some tech support through Skype, but I figured out a way to register on the app finally through my son's phone. For some reason, it wasn't accepting the e-mail addresses I entered on my phone as valid. It worked after I registered through another phone, though.
I'm pleased to say that after I registered on the eWeLink app, I was able to pair my socket with my WiFi. I plugged in my lamp to the socket, and with a tap on my phone, I'm able to click the light on and off. Success!
Now, the app says,"You can create scenes to turn on/off a gang of devices with one tap." It adds, "Let your devices operate automatically, you can even get rid of your phone." There's also something about being able to "trigger on/off the devices by the data range from sensors or by the status changes from other device."
So, needless to say, I'm still working on my ability to fully comprehend how this all works, but I think that the ability to not have to get up to turn the lamp on is totally worth the $12.86 that this socket costs on the website. You can also use the device with Amazon Alexa, Google Assistant and Nest. Hopefully, I will soon get the total hang of this product, and use it to its full capability.
Thanks to Sonoff for sending us this product for free to review in exchange for our fair and unbiased opinion. No other compensation has been offered. Let us know what you would power with your Sonoff device in the comments below!