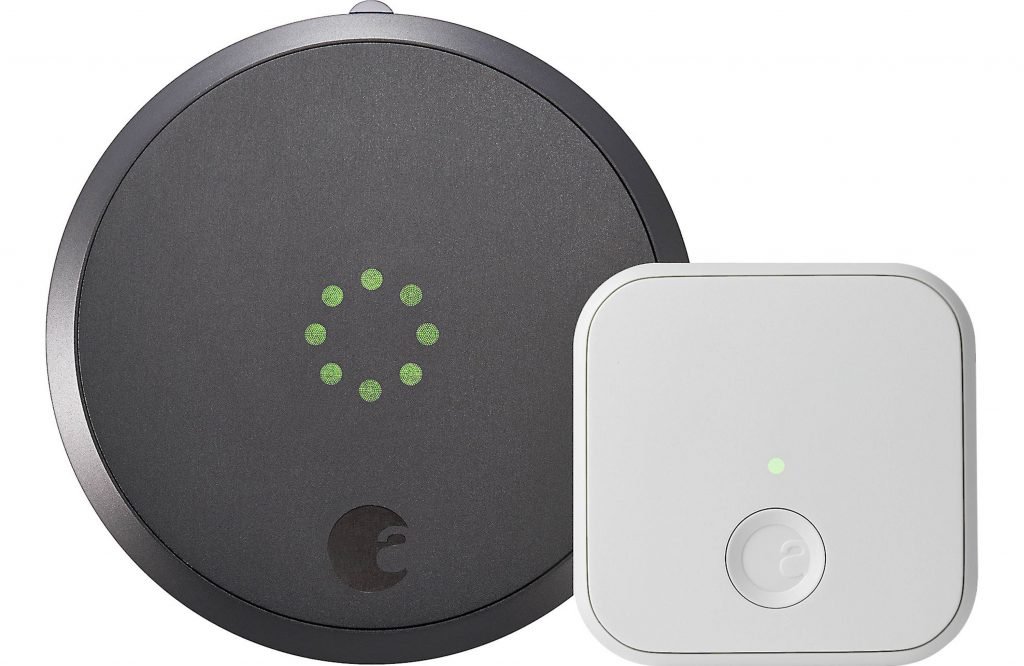 I actually received the August Smart Lock Pro with Connect Wi-Fi Bridge about a month ago, but it took a little while to set up right. Since it has been in our house a month, we are very much used to it. I would like to detail my experiences with it up until now, and it will end with a recommendation, honestly.
I mentioned that I had a difficult time installing this, and this might be because of how the August Smart Lock Pro needs to be installed. This is a device made for replacing the deadbolt on your door, and its first step involves using the piece of blue tape on the outside to hold it in place. Then, from the inside, I screwed off the lock.
By the way, the instructions were given to me from the app, and things seemed pretty straightforward, but I'll attempt the hard part. You see, my lock had this flat piece of metal sticking out of it that can be turned in order to latch the deadbolt in place. The Smart Lock Pro included this piece that was made to fit in the circular contraption that you see in the image. The piece, the circle, and the lock have to fit very precisely together, or it doesn't work quite right.
The biggest problem that I had with this setup is making certain that the lock fit tight, but not too tight. You know that piece I was talking about? There were three of them included of three different colors (blue, yellow, and green) presumably for all kinds of locks. There was one that fit mine too tight, one was too loose, but one was just right…barely. This involved screwing this contraption to the lock itself, and then the piece goes into the circle. Then the circle goes on the contraption by clipping it into place. Yes, there are these clips that open on the side of the circle, and it fits on the door.
You know, I wanted to do a video of this like my review of the Phonegrips. The issue is that I didn't want to take all these parts off my door because it would be a real pain to get them back on again. The important thing was that the Connect Wi-Fi Bridge works just fine. All I had to do was plug this thing into a wall, and it was pretty easy to set up on the app with that.
The end result was something that connects to my phone via Bluetooth, and I touch this screen with a green dot to unlock the door, then the red dot to unlock it. If I want to do it from inside, I can just twist it manually. The app knows when the door is locked and unlocked.
The best part was that I was able to set up invites for my family, so they can all unlock the front door. Now it should be known that I had a difficult time setting up my daughter's account, and I believe it is because I, and the others in my family, have Android phones, while she has an iPhone. I attempted to send an invite, and it said that her number was not valid, and I had to enter it in manually. Eventually, we were able to get it to work, and it works with Sir, Alexa, and Google assistant as well.
In short, the Smart Lock Pro + Connect Wi-Fi Bridge is something that every home could use, and I hope the batteries in it last a while so it can work for us. So far, it hasn't failed me yet, and it is available on the August site for a sale price of $199.99.