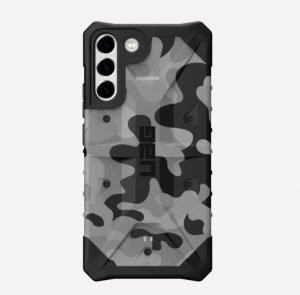 I honestly can't remember when was the last time I reviewed a UAG product, but I just checked, and it was for the Samsung Galaxy S21. So it has been about a year, and..did I really not review anything for the iPhone?
Anyway, the UAG cases are probably some of the strongest that you can get, very similar to Otterbox or Lifeproof. I'm very certain that I have said this before, and I feel like a preacher who is talking about the same subject for the 10th time in his career.
I'm not certain why this model of the Pathfinder SE is camouflage, but this is apparently the default of this UAG product. Hopefully, if you drop it, you won't lose it because it blends in with the ground. I'm kidding, but if you drop this from 16 feet up, it will protect your new Samsung flagship phone.
I'm told that the reason why it has this protection is because it has two layers of protection. I'm not sure how they made it like this and so feather light, but that is the magic of Under Armor Gear (UAG).
If you want to get in on this, head on over to the UAG site and lay down $49.99 for it.