We always like reviewing anything that we can get from UAG (aka Urban Armor Gear), as they make some really interesting and very durable cases. This time, we had a chance to review six of their newer products for some newer smartphones.
Our Review of the [U] Anchor Series iPhone 12 Case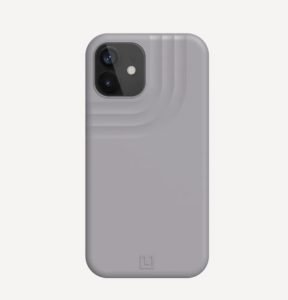 This particular case for the iPhone 12 definitely gets points for originality. It looks like it was made from one mold, and I really admire the aesthetic of those three grooves in the corner. It's matte finish gives it a unique shine quality as well.
It certainly is light enough, and it meets military drop-test standards (dropped 26 times at 48 inches with 0 damage). It also works with MagSafe and Wireless Charging.
If this case interests you, it can be purchased on the UAG website for a price of $34.99 in colors of Black, Aubergine, Dusty Rose, and Light Gray.
Our Review of the Outback Bio Series iPhone 12 Mini Case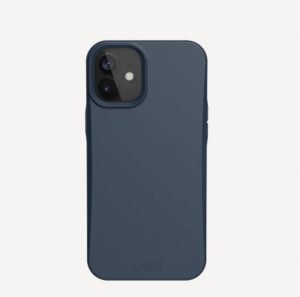 I'm going to assume that the vision of this Outback Bio Series is to be earth-friendly, because it is 100 percent compostable. Not only that, the packaging itself is very paper, not plastic.
The case itself is pretty light, and it also flexible. It meets military drop-test standards, and it has some great ergonomic features as well. I like this weird honeycomb pattern on the inside, which I'm guessing keeps the iPhone 12 mini (a very dinky phone) snugly in the case.
The Outback Bio Series for the iPhone 12 Mini is available on the UAG site for $39.95 in many various colors.
Our Review of the Civilian Series iPhone 12 Case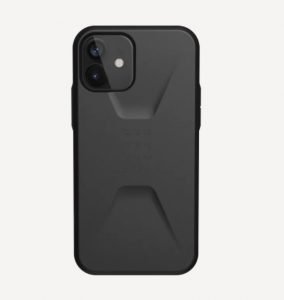 The Civilian is made to be a very hard chunk of plastic with a very interesting shape. It is set with some HyperCush technology, which can "dampen and disperse" the energy created when the mobile device collides with another surface.
It has that honeycomb pattern/texture on the inside, while the outside is nice and smooth. The end result is something made to fit nicely in your hand, but if it should slip, it is ready for the fall.
You can purchase the Civilian Case for the iPhone 12 on the UAG site for $39.95 in colors of Olive, Mallard, Silver, Eggplant, and Black.
Our Review of the Pathfinder Series iPhone 12 Pro Max Case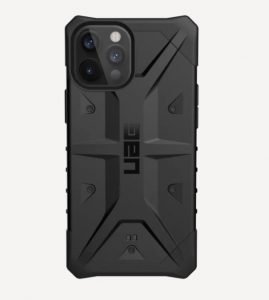 I am told that the Pathfinder Series case is the one that "started it all". It definitely has a look from UAG that I believe the company is known for.
The Pathfinder Series is tough. It is so tough it feels like it is made of metal, but feels more like hard rubber. Part of it is because it has two layers of protection, and it is wireless charging compatible.
So yes, this is the one that you want for some great protection, and it is available to purchase on the UAG site for $39.95 in Orange, Black, Silver, Olve, Mallard, and White.
Our Review of the Plyo Series Samsung Galaxy Note20 Case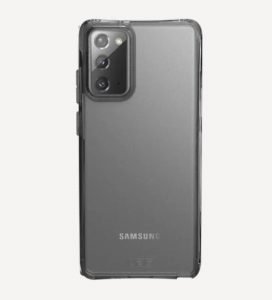 The Plyo series of cases looks like a simple piece of transparent plastic case, and even though it appears very smooth, it is not.
I am not certain how, but the Plyo is very rough, as if it is made to be invisibly textured. I don't know how to describe it, but it has these air soft cushioned corners which help out a lot with the protection.
There seems to be a pattern in the pricing as this is also $39.95, but it looks like it is available on the UAG site in one color: Ice (Clear).
Our Review of the Monarch Series Samsung Galaxy Note20 Ultra Case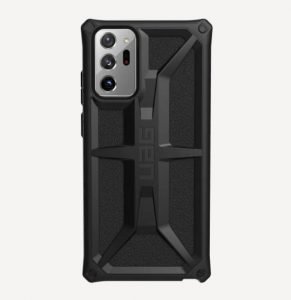 I will end this review with what I believe is the toughest of cases, as the Monarch is the king of protection with 5 layers. It is designed as an "all-terrain phone case", and I am not certain what that is a reference to.
The Monarch is a mix of what looks to be plastic and metal, and I am glad that I have a case that allows easy access to the buttons. It is a bit harder to get to the stylus, but it does provide some extra protection on the sides of the screen.
You can find the Monarch case for a bit of a higher price of $59.95 on the UAG site in Crimson, Black, and Carbon fiber.