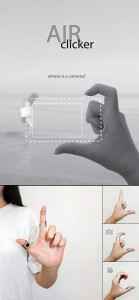 If you have ever used your fingers to take an imaginary picture of something, then you are getting why the Air Clicker Camera was invented.
The Air Clicker is a Bluetooth enabled camera lens that has a motion sensor shutter button on two kinds of bands. All you need to do is just put your fingers in the right positions, and do a click gesture. I have no idea if you will hear an actual "click", but the images are sent to the smartphone itself.
I think this is quite cool, and it shows where we are headed as a society. That is, mobile accessories which are quite small, but all connected via Bluetooth to some central hub that comes with us that we call a smartphone. After all, most of wear a Bluetooth headset, which is a perfect substitute for a phone receiver.
I can't help but wonder what will be next?