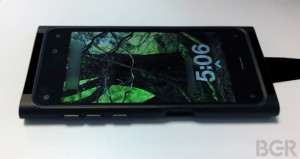 Lately, I have been hearing a lot of cool stuff, but nothing really confirmed, about a new smartphone from Amazon. I wish that I would just get the press release, but they just haven't done anything big since the Fire TV announcement a few weeks ago.
The latest news about Amazon's smartphone is this feature that involves certain things to be revealed when the user tilts it. Like if you are looking at photo on the phone, tilting the phone will open up the camera roll. Also, if you are looking at a video on the Amazon video store, tilting it will reveal the IMDB ratings. I have to admit, I like this idea, and I think it is going to open up a whole to world to smartphone users and I wouldn't be surprised if it becomes a standard on all smartphones. Maybe Apple could copy it.
Here's another thing that I have heard about Amazon's new phone: it will have a glasses-free 3D screen. Yeah, this has been done before on certain smartphones, and it hasn't always met with much success. What will make this phone different is that it will have five front-facing cameras, and they are designed to track your eye and head movements. This will cause the wallpapers to shift as the phone is tilted (which looks like that will happen often), as well as maps in 3D!
Other things stated about this phone is that it will have a 4.7-inch screen, Qualcomm Snapdragon processor, 2GB of RAM, as well as a 13-Megapixel rear camera.
Good gosh! Amazon, can you get the official word out on whether or not you are making what sounds to be a very awesome camera? If so, tell me how much it is. I'm about ready to give the middle finger to the Samsung Galaxy series if this camera is everything they say it is.