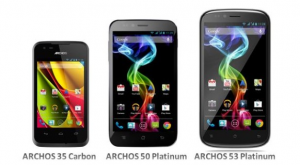 I have seen Archos come out with some interesting products, and some of their memorable ones are Android tablets which I have tired out. I believe that this is the first time for Archos, but they are going into the smartphone market.
You can see the labels for what they are, but there are some similarities of unlocked 7.2Mbps HSPA 3G, dual SIM slots, Android, and 4GB of storage with a microSD slot.
The 35 Carbon has a 3.5 inch screen, 1GHz Snapdragon S1, 512MB of RAM, VGA cameras, and Ice Cream Sandwich. Then there is the 50 and 53 versions with 5 inch and 5.3 inch screens, 1.2 GHz quad-core, Jelly Bean, 8-Megapixel back camera, and 2-Megapixel front camera.
The prices of these phones are $100, $200, and $250 respectively.