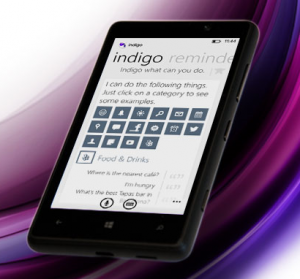 Last night at CTIA Showstoppers, I had a chance to encounter Indigo from Artificial Solutions, a personal assistant application. I found that all you needed to do is speak into it, and it would answer you. I never thought I would see a day when this vocal recognition would be ho-hum tech. I'm sure that you are probably thinking the same thing: Siri and Google Voice do that.
Indigo takes it a step further. If you ask Indigo who wrote The Great Gatsby, it will give you the answer of F. Scott Fitzgerald. That's not a big deal, but you can ask a follow-up question of when did he die. Indigo actually knows that you are referring to F. Scott Fitzgerald when you say "he".
In short, Indigo does not work on a question-by-question basis. Here is another winner feature: you can "carry on this conversation" on multiple devices. So if you ask the first question in the last paragraph on your phone, you can just as easily ask the second question on your tablet, PC, or other compatible device.
While I am on the subject of compatibility, let me say that Indigo is only available on Android and Windows, not on iOS yet. I believe that it is free for those associated platforms, and it can do all the things like update Facebook status and tweeting.
I am quite pleased with what Artificial Solutions as put out for smartphone users, and I think it is a sample of how vocal recognition and personal assistant programs will be easier and be able to do more.