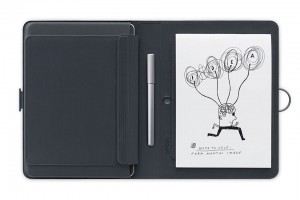 We live in an era that really demands that everything be technological, but for those of us that want to write down ideas really quick, pen and paper really is the best thing, really. However, the issue with pen and paper is you have to type it up after that just to get it to jive with the technological world.
One of the things that I admire about Wacom is that they are able to take hand drawing and note taking and make it technological. Wacom is most famous for making these drawing pads with a Stylus and a pad for interfacing with your computer, like the Intuos Pro that I reviewed a while ago. The Bamboo Spark is made to write on a notepad with a pen, and then have what you drew end up in digital form.
I have reviewed ePens before, and hooking them up so they will work is usually kind of a pain, but the Bamboo Spark is made to make this simple, and it is. The instructions say to just download the free Bamboo Spark app to your smartphone or tablet, and then turn the Spark on, and start writing.
There was no Bluetooth that I had to sync or anything, but it just worked from the moment that I started writing. Then, when I had filled a page on what I was writing on, I pushed a button and the information on the page was magically made digital.
The notes are then saved on a Wacom Cloud, and you get 5 GB of storage for free. It is possible to access these notes on different device, and even edit them. They can be used on third party cloud services, such as Evernote and Dropbox.
Best of all, any analog notes can be converted to plain text using the Bamboo Spark, so they can be shared. it seems like this is made to be shared, and there is even a "Making Ideas" news hub for product updates and insights. There is even a free ebook about "How to Draw your Idea".
In short, the Bamboo Spark is a way to really go back to the drawing board. It is available on the Wacom site for $159.95 in three forms: one smart folio with a gadget pocket, one smart folio with tablet sleeve, and smart folio with snap-fit for iPad Air 2.