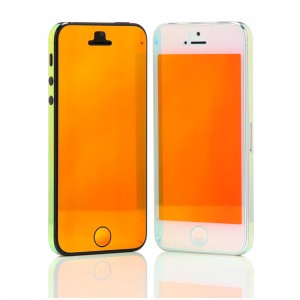 I have seen Clear-coat for years, and they are very good and taking iPod, iPads, and other mobile devices and making them all the colors of the rainbow. They are also good at providing clear protective coatings as well. Of course, a lot of businesses do that, but nothing that I have seen compares to the Aurora.
The Aurora caught my eye at CTIA as I saw it on a rotating display, showing off its colors like a peacock. This isn't really visible in the image, but the color of the Aurora is different depending on what angle you are viewing it at. This "world's first color-shifting skin" allows a kind of gold chrome finish that make it a smartphone Richie Rich would be proud to own. What really makes this interesting is that even though it makes the smartphone look like a gold brick, you can still access the main screen.
I really think that the Aurora is poised to change the way smartphones look. Too bad it is only available for the iPhone 4/4S and iPhone 5. You can get the kit on the Clear-coat site now for $34.99, with free U.S. Shipping.