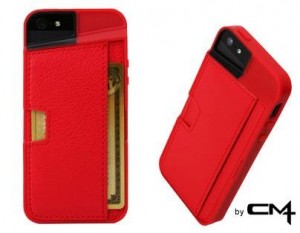 Is it possible that we are looking at an age where the wallet and the smartphone are becoming one? Well, I have reviewed several products for the iPhone or other smartphones that allow the user to place credit cards or even cash on the case of the phone.
CM4 has created the Q Card case, specifically designed for the Galaxy S4. It can fit about three cards and cash, and it is made from soft-touch rubber and a premium fabric sleeve. It will protect from bumps and scratches, and will give you access to all the ports on the smartphone.
So this won't be available until July, but it comes in Black Onyx, Pacific Green, Red Rouge, and Mahogany Brown for about $39.99 here.