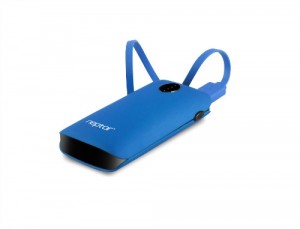 Some of you might remember my Eagle Trilogy. I have been fortunate enough to review yet another Eagle product, which means that I am on the fourth in this trilogy. Yeah, a trilogy usually ends at three, but I have seen so many films designed as trilogies have more films then they really should have.
Eagle has produced some really great products like the Foldable Bluetooth Headset, the Bluetooth Speaker System, and the Bluetooth keyboard with speakerphone. Now, Eagle has created a portable battery pack, the ET-NP056K.
Of course, mobile battery packs are nothing new, as nearly every tech manufacturer has one. They usually come in a rectangular shape, and they store power so you can use it on mobile devices later, like when you are in a pinch.
This particular one has a battery capacity of 5600mAh, and it can give smartphones up to three full charges. It also has a dual USB 2.0 port, so you are good for charging two devices at once. I also discovered that this product has a flashlight, provided you hit the power/indicator twice.
I will recommend the ET-NP056K if you are looking for a portable battery pack. You can get it on Amazon for $49.99, and you can find out more information about it here.