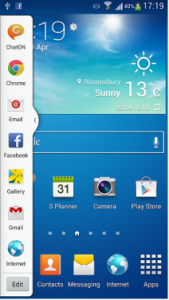 I've been wanting to review the Samsung Galaxy S IV for a long time now, and I received it a few weeks ago. It took me a while to try out the features, and I can't help to compare it to the Galaxy S III.
I will start with the Multi-Window, an interesting feature that allows for running of many apps at once. It reminds me of the Palm Pre, and I wish I could put more on this as only applications found within the Multi window panel can be active atop another current application on the screen. You can activate it by hitting the back button to get the menu, but it seems limited as to the Apps you can use. It is handy as you don't have to keep pressing the main menu button all the time.
One of the features that Samsung has been hyping on their many commercials about "the next big thing is already here" is the camera. It is nice to see 13 Megapixels on the back and 2 on the front, and it is very interesting to see how many modes that it has. I found that some were easy to use, like the Sound and Shot which allows you to take a picture and have sound along with it.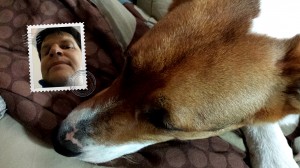 I also like how you can take a picture with both the front and back cameras at the same time. This creates this weird postage stamp impression of the picture-taker along with the subject matter. You can see an example of a picture that I took of my dog.
I found that when it came to taking drama shots with five images at once, I found this a little difficult. Also, the ad on television shows a way to use an Eraser function to take out photo-bombers, but I also find this difficult to use as well.
I also had a difficult time using the Smart Screen, which allows you to scroll through websites while tilting it. I found that I had to do this subtly, but it did work. You have to go into the Settings screen and turn it on.
I am also having a hard time working the Smart Screen Video pause. You see, if you are looking away from a video screen, it is supposed to pause. I found that I couldn't get this feature to work on YouTube videos as well as videos playing on the phone. I double-checked, and I still have this feature on.
The S-Album is quite easy to create an album like a virtual scrapbook. I even found the suggestions for an S-Album very helpful, as it states what photos you should use as an S-Album based on recent pictures you have taken.
There are other features of the S III, I have already discussed them on my Galaxy S III review, and most of them have carried over on the S IV. All in all, I would have to say that the Galaxy S IV is a step-up from the Galaxy S III, but I think it is a small step. However, when you are trying to put out a new version out per year, you can't expect Quantum Leaps between version III and IV.