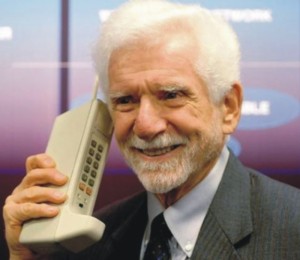 Cellular phone technology is really taken for granted these days, but there was once a time when we didn't have this convenient method of communication.
Forty years ago, on April 3, 1973, Martin Cooper of Motorola made a call from the DynaTAC phone. In case you are wondering who he called, it was Joel Engel, a rival over at AT&T. Cooper then went to a press conference and showed off the Brick, which weighed in at 2.5 pounds with 30 minutes of talk time with 10 hours of charging time. Only the rich could afford it at the time, but hey, the smartphone revolution wouldn't have happened without it.
Every journey has a first step, and I think it is really interesting that the first cell phone call was bragging. It sort of makes Alexander Graham Bell's call to Watson seem less practical.