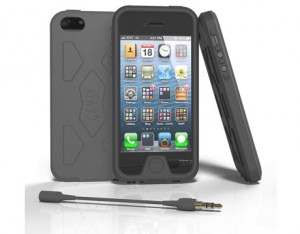 There is a huge market for creating smartphone cases that will stand the pressure of life. Companies like Otterbox seem to make cases that stand up to the "big four" of snow, shock, water, and dust.
I saw a company at CTIA known as GeveyBox, and they have an iPhone 5 case that is appropriately named The Umbrella. It protects against the aforementioned "big four", and I will have to say that the man at their booth was very excited about it.
I don't really have much information about this. I'm not even certain what that cord is in the image. I believe that the Umbrella is entering into a market that is pretty crowded, but the price is nice at about $59.99. You can pre-order it here.