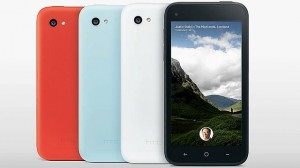 Just so you don't get confused on the headline, I'm not trying to say that HTC is announcing the first phone with Facebook. For years, I have been hearing that Facebook was going to make an official phone, and now here it is.
Peter Chou, the HTC CEO, stated that the First is going to be the "ultimate social phone". It has a 4.3 inch display and a dual core Qualcomm Snapdragon 400 processor with 3G/4G world and multimode LTE. Other features include 1GB of RAM, 5 Megapixel camera on the back, 4X digital zoom, 1080p HD video, 1.6 Megapixel camera on the front, NFC, Bluetooth 4.0, and can be a mobile hotspot for 8 devices.
The First will be available from AT&T in mid-April for $99.99 in colors of black, white, red, and pale blue.