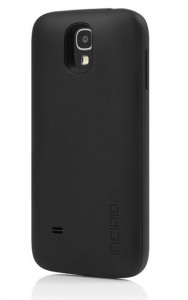 It seems that I have been seeing a lot of mobile batteries, such as my series on Digital Foci, and there are a lot of cases. I have seen a lot of cases put on batteries, and if you read my next post, you will discover more.
For my Fifth (but not necessarily last) article on Incipio, I'm covering the offGRID, a backup battery case from the company. This battery case contains 3100 mAh of charging capacity, and all you need to do is push the button for a little more juice. About 10.5 hours of additional talk time, to be exact.
The real problem with these battery cases is their problem with adding extra real estate to the smartphone along with battery power. So, the real question is, what is the bulk factor? Not a lot, actually.
So I would have to recommend the offGRID if you are a Samsung Galaxy S4 owner, and I am not certain if they make them for other smartphone models. You can find it on the Incipio site for $89.99.