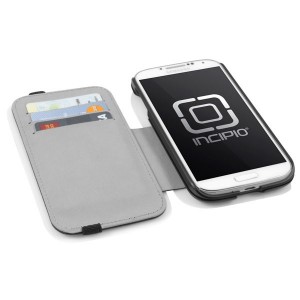 I have said before when I reviewed the Incipio Stashback that I have seen many cases for smartphones that are designed to hold credit cards and cash. I suppose it shows that the wallet is on its way out, and the Watson by Incipio is the best evidence of this.
The Watson Wallet Folio for the Samsung Galaxy S4 Case is practically a hybrid of a wallet and smartphone case. It has an "eco-friendly vegan leather cover" with a "microsuede lining with an interchangeable Plextonium hard shell feather case".
This case really makes you feel like you have a wallet in your pocket. This is what I like about it the most. I notice that the official site doesn't say that it comes with a screen protector, but mine did. You can find the Watson Wallet for about $44.99 at the aforementioned site.