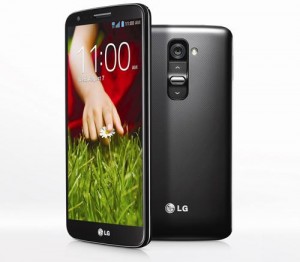 The other day I covered a story about the G2 Quickwindow case. I'm going to be honest and admit that I probably should have covered the G2 first.
Well, the G2 was officially announced today, and it is the big news for the day. Now, the real big news is that this phone has no buttons on the side, seriously. Somehow, all the controls are on the back, which allows for a lot of one-handed controls.
Of course, there are other features like the 5.2 inch screen (with 2.7 inch width), the 2GB of RAM, 13 Megapixel shooter back camera, 2.1 front-facing camera, 3,000mAh battery, and a 4.2.2 Jelly Bean like the Moto X.
Hit the jump to see the other features, as stated by the Press Release.
Answer Me — Automatically answers the call after lowering the ringtone when the phone is raised to one's ear.
Plug & Pop — Recommends options or related features to choose from when the earphone or USB cable is detected.
Text Link — Allows information embedded in text messages to be selected and easily saved in a memo or calendar and searched on a map or the internet.
QuickRemote — Not only can LG G2 be used to remotely control popular home entertainment devices, it can also learn from conventional remotes and be customized to operate multiple devices with flexible layouts and keys.
Slide Aside — Enables easier multitasking by simply "sliding" open apps off to the side using a three-finger swipe.
Guest Mode — Protects owner's privacy by displaying only pre-selected apps when guests access the phone with a secondary unlock pattern.
This phone will be out on 130 wireless carriers within the next eight weeks. Check it out then.