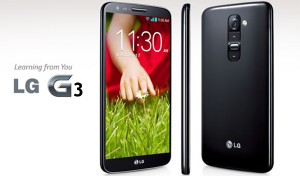 LG has been up to awesome tricks for a while with smartphones like the G2, and now they have announced the G3. The G3 has a slogan of "simple is the new smart", which is a good way of saying that anyone can use this phone.
The display of the G3 includes a 5.5 inch Quad HD display with four times the resolution of HD and twice as high resolution of Full HD display. It has a 2.5GHz Snapdragon 802 quad-core processor, 2GB of RAM, and 16/32 GB of internal storage, not to mention a 3,000 mAh removable battery.
As for the cameras, it has a 13 Megapixel rear camera and 2.1 Megapixel front facing camera. The sound has a 1 watt speaker with boost amp for deep bass.
Other new features include the rear-placed volume and power buttons. It also has a built-in FM radio and wireless charging. In case you are wondering, it runs 4.2, or KitKat.
I'm not certain what the cost will be, but should be available at many carriers like Verizon, AT&T, Sprint, and T-Mobile.