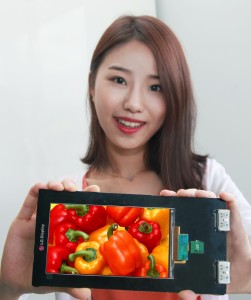 Okay, now that you read the headline, but what does it mean? Well, if you have tried to do something that you normally do on your computer from a smartphone, this is important.
This first Quad HD AH-IPS LCD panel is 2560 x 1440 at 538 ppi, and measures at 5.5 inch Quad HD panel. This is the highest resolution and ppi (pixel per inch) mobile panel to date, which means you have some clearer images with 4 times more pixels at HD, more delicate colors, and more. You an enjoy a full view of PC-version web sites at a single glance without any distortion.
Well, I don't have an LG phone but if the resolution looks this good, then I might change my tune. However, these Retina displays and whatever Samsung is doing kind of has me sold. Perhaps the next trade show I go to will have LG's phones on display, and I can check it out for myself.