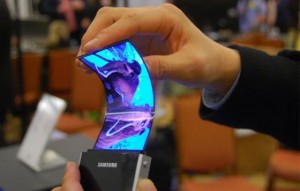 Okay, every once in a while, I see some kind of new device that I think is going to change the world. I think LG has already seen it.
We have been living in a world where the smartphone has been just a touchscreen with very few buttons. We obviously have Apple to thank for that, but what is the next step? After all, it is very clear that those old flip phones from a decade ago look like dinosaurs versus the plain touchscreen smartphones of today.
So what will be the next step? How about some kind of small bar for notifications, and then a pullout screen for watching movies? Yeah, I really want that, and you know who else wants that? LG.
LG has planned on investing about $907 million for a new OLED plant in Korea. The plant should be up and running in about 2017, which can produce four times as many flexible OLED displays compared to what they can do now.
Seriously, those OLED touchscreens are the way of the future man. I think I might need to get me some idea of what this is going. Maybe I should invest in LG Electronics before the stock climbs after their flexible touchscreen phones come out.