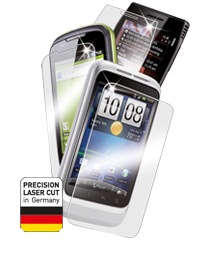 I don't know if you have heard of Displex, but they are a European company that has created a lot of maintenance products for smartphone. I saw them at CTIA last week, and I was able to personally check out the Individual Display Protection.
The Over Armor Individual Display Protection is laser-cut and it has 4 layers of scratch protection for iPhone 4/4S, iPhone 5, and the Galaxy S2/S3. It is good for $14.99.
The Universal Display Protection is "one film to rule them all" and it has more than 2,200 downloadable templates. This is also available for $14.99. Then there is the Over Armor Universal Display Protection for Tablets and eBooks, to fit tablets for about $24.99.
Then there is the Revitalizer Display Polish to remove minor scratches from clear plastic displays for about $9.99. Then there is the Super Glide Touch Screen Cleaner for fingerprint removal to protect and seals from dust and dirt, which is available for $9.99. For the same price, you can get the Streak Out Special Display Cleaner and Grease Relief Magic Microfiber Cloth.
Personally, I think you should go see this for yourself. Head on over to the Displex site and perhaps you can download them.